Impact of ocean currents on the marine organisms in local and regional habitats.
Context
The Marine Biophysics Unit within OIST carries out scientific research into the impact ocean currents have on the marine organisms that inhabit local and regional habitats.
Primarily this equates to the study of how planktonic larvae disperse using high resolution simulations of coastal and oceanic circulation. For example, the dispersal from deep-sea hydrothermal vents in the western pacific was quantified using such simulations (Mitarai et al., 2016).
MERCATOR OCEAN SUPPORT
Mercator Ocean brings its modelling expertise to
– long time simulation that calculated connectivity of larval dispersal.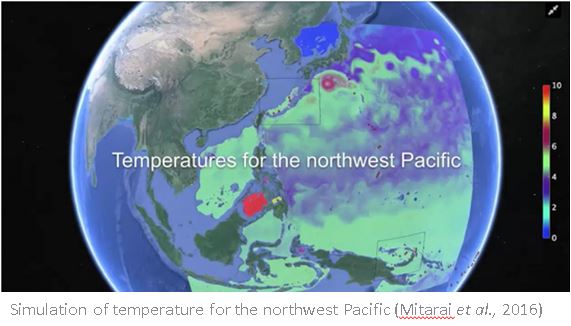 Use
To develop real-time forecasting system for the coastal ocean circulation processes around Okinawa
Mercator Ocean data are used for boundary condition of a ROMS model around Okinawa or Indonesia Through Flow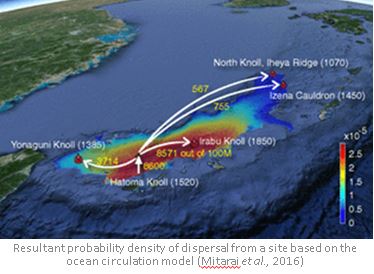 Publication reference
Mitarai, S., Watanabe, H., Nakajima, Y., Shchepetkin, A. F. & McWilliams, J. C.  Quantifying dispersal from hydrothermal vent fields in the western Pacific Ocean. PNAS 113, 2976-2981, doi:10.1073/pnas.1518395113 (2016).
Products used
Realtime GLOBAL MODEL 1/4deg
Temperature, Salinity, Currents, Sea Surface Height
from 2009 to present (D-14 to D-7)
USER FEEDBACK
The supported studies are led by Satoshi Mitarai. "The dataset was able to better reproduce the Kuroshio as initial and boundary conditions for a ROMS model around Okinawa and the Western Pacific." Quote Main User: Satoshi Mitarai, Marine Le Gal, Kazumi Inoha
Main User Contact:  https://groups.oist.jp/mbu
Marine Biophysics Unit, OIST
1919-1 Tancha, Onna-son, Kunigami-gun,
Okinawa, Japan 904-0495