The European Green Week is Europe's biggest annual conference on environment policy. 2021 edition will open on May 31st and will be dedicated to EU's "zero pollution ambition", at the heart of the European Green Deal. The Week and the related events taking place in many different countries represent an important opportunity for all stakeholders and interested citizens to move a step towards making the ambition for a zero pollution and toxic-free environment a reality.
Mercator Ocean International (MOi) is highly engaged in the combat against pollution in the ocean in accordance with its general interest mission towards a healthy ocean and also with its values, as stated by its Director General Pierre Bahurel: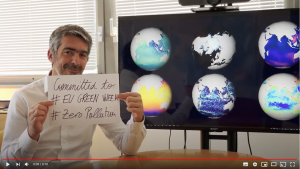 In 2021, Mercator Ocean International will be involved in 3 events:
1 – Wednesday 2nd June 2021 2:15- 3:15pm: Session 4.4 « Space is the place – monitoring the planet's health with Copernicus »
This joint DEFIS-JRC session on Zero Pollution/Marine Pollution will present how Copernicus helps towards zero pollution in water. Laurence Crosnier, Head of Markets and Services Department at Mercator Ocean International, presents « Green deal solutions for combatting ocean pollution with Copernicus Marine ». Moreover, A.J. Abascal from IH CANTABRIA Spain showcases how the digital ocean can support actions for « Preventing and managing oil and Harmful Noxious Substances spills around Spanish refineries at Gibraltar, Tenerife and Huelva ».
More info on this session here >>>bit.ly/MOiEUGreenWeek
2 – Friday 4th June 2021, 10:00 am-11:30am: « A digital Ocean for a Clean Ocean »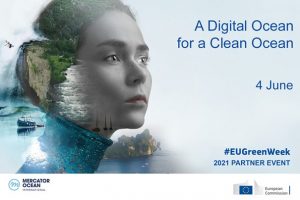 This webinar is organized in partnership with the EU Green Week. Plastic is increasingly harming marine ecosystems, along with other forms of pollution due to human activity, while our chances of restoring a clean and healthy ocean are decreasing. The digital ocean of Mercator Ocean International enables Member States and local authorities to implement environmental policies and to set up risk mitigation solutions, offers free and reliable data to ocean entrepreneurs, empowers NGOs and Advocacy groups to raise awareness and mobilize citizens. We are all ocean citizens actually and we all need to access accurate data for understanding our ocean or for making evidence-based decisions.

This event is an opportunity for decision-makers, public and private stakeholders to discuss the opportunity of the digital ocean to reduce marine pollution and to showcase how any citizens can use our digital ocean too.

3 – From the 31st of May to the 4th of June 2021: "AFTER-Plastic" Week
As part of its corporate values, Mercator Ocean International ensures a precautionary approach to environmental challenges in the frame of its activities. The organisation develops internal initiatives to promote greater environmental responsibility and supports ocean advocates in their actions devoted to sustainable ocean. Mercator Ocean International is aligned with and supports the ten principles of the UN Global Compact.
As a #EUGreenWeek partner, Mercator Ocean International's staff organises an internal "AFTER-Plastic week" within its premises, with activities that can be followed by co-workers also remotely. It will consist of several lunch break activities aiming at raising awareness on the impact of plastics on our ocean, as well as providing solutions to avoid plastics at work and in our everyday life. The week will be concluded by an outdoor event to clean a stretch of the riverbanks of the Garonne in collaboration with the association "Champ d'actions"