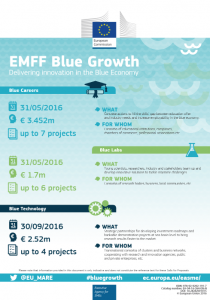 This year, three calls for proposals are open under the European Maritime and Fisheries Fund to foster blue growth across Europe. The European Commission organised a Launch Event on 5 April 2016 to present those calls.
With a budget of over 7,5M€, the calls 'Blue careers', 'Blue Labs' and 'Blue Technology' will respectively help enhancing career opportunities in the maritime economy, stimulating the creativity of young researchers and set-up cooperations that will help bring research results to the market in promising blue growth technology areas.
The calls will be open to all sea basins surrounding the EU coasts and will target a wide range of stakeholders of the blue economy.
The application deadline is 05/31 for the Blue Careers and Blue Labs Calls, and 09/30 for the Blue Technology Call.
Please click here for further information.