The European Commission launched in 2018 an initiative called DIAS (Data and Information Access Services) to provide a single access point to all Copernicus data and information, alongside processing resources, tools and other relevant data. As key organisations in the Copernicus Programme, EUMETSAT, ECMWF and Mercator Ocean International were selected for their long-standing experience to develop the WEkEO Copernicus DIAS service, one of 5 DIAS platforms.  The European Union flagship Earth observation initiative, the Copernicus Programme is in the WEkEO DNA both in terms of direct connection to data and to the Copernicus and Sentinel expertise.
This initiative benefits a wide range of users including institutional bodies, the private sector, scientists, and civil society to enable them to develop their own value-added products, applications and services. WEkEO DIAS provides users with a powerful tool, including big-data analysis tools, to develop applications for their own specific needs. WEkEO DIAS has been designed by EUMETSAT, Mercator Ocean International, and ECMWF, and implemented by industry players, to provide easy access to Copernicus information and processing tools, in one centralised location, so that users can develop applications for their own specific needs.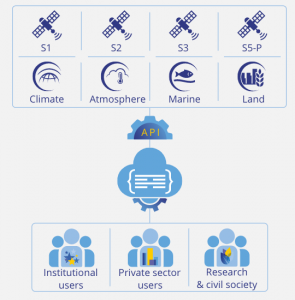 The name WEkEO (pronounced [wikio]) first refers to the image of the Wikipedia reference portal, and also brings up the idea of a collaborative platform where the first syllable "WE" involves the 3 centres (EUMETSAT, ECMWF and Mercator Ocean) together with all WEkEO's users. It also refers to the way the WEkEO platform is built with a distributed architecture. The letter "k" is synonymous of Knowledge here. Finally, "EO" stands for "Earth Observation" and for "Environment Observatory".
WEkEO's strength relies on its distributed infrastructure built thanks to the Copernicus organisation already in place in the 3 centres: infrastructure and data from the 3 centres are not duplicated but rather linked together, reducing costs for the European tax payer and avoiding the need for new energy-consuming infrastructure. This approach gives users direct access to work with the most up-to-date Copernicus data instead of having to rely on copied, archive datasets. Finally, this federative approach can be extended to other selected external partners, so the system has the potential to continually grow and expand in the future.