For more information about the systems developed by Mercator Ocean International, click here:
Operational Oceanography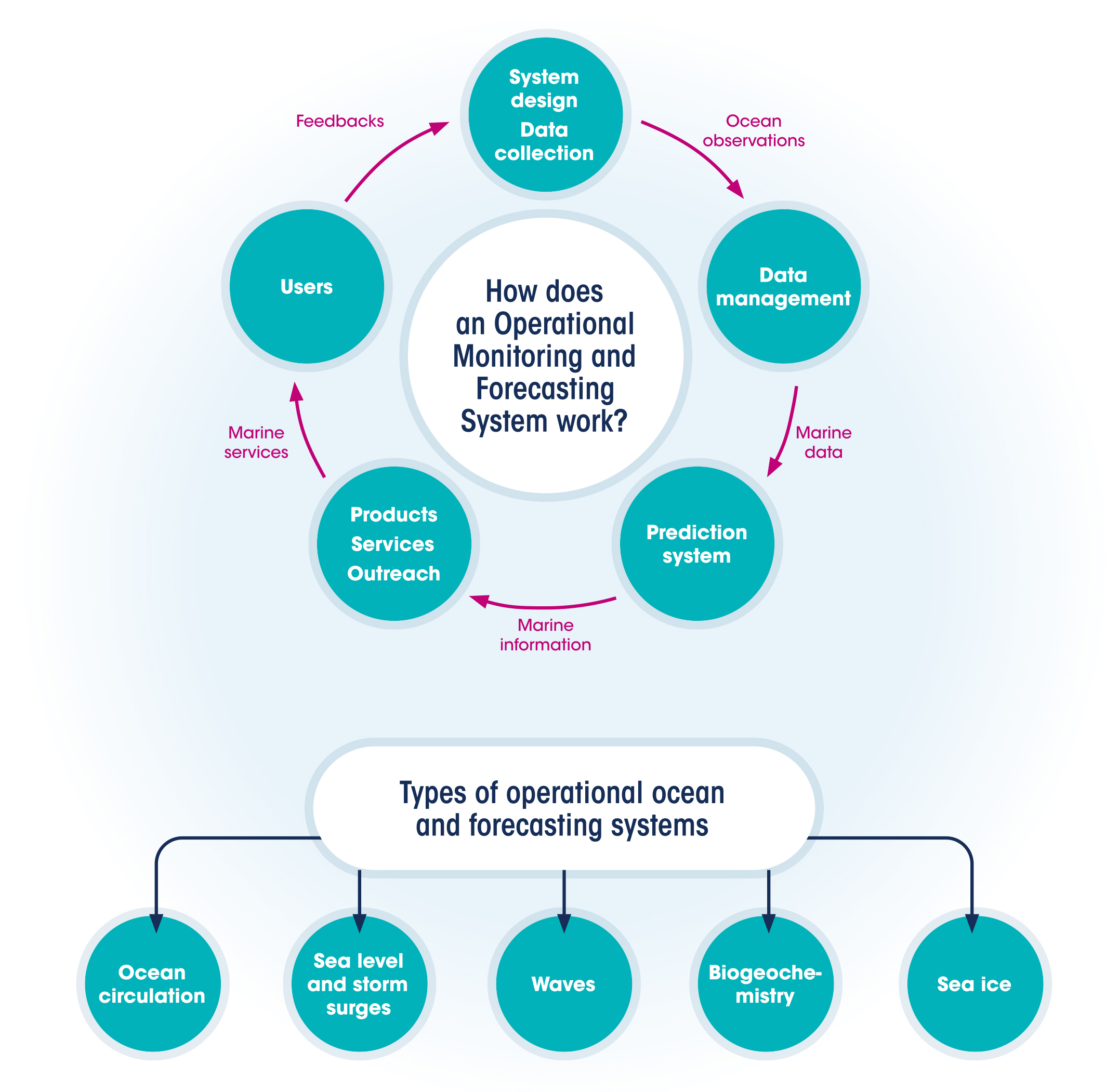 Today, every single country in the world with a coastline, or not, is likely to engage in marine activities for national security, environmental protection and maritime economic development. Such activities require the monitoring and forecasting of the physical, biogeochemical and sea ice state of the ocean on a daily basis. Operational oceanography relies on expertise and brings the relevant ocean data for monitoring and assessment.
Operational oceanography can be defined as the activity of providing estimates of the Blue (physics: temperature, salinity, etc.), White (sea ice) and Green (biogeochemical: chlorophyll, dissolved oxygen, etc.) ocean variables for the past, present and future global-to-coastal marine environments. It involves Operational Ocean Monitoring and Forecasting Systems which encompass the collection of ocean observations, modeling of the current ocean state, short-range predictions and ocean reanalyses, and scientific verification. It also supplies routine products and information at agreed service levels to enable marine policy implementation, support Blue Growth and scientific innovation.
---
The Expert Team on Operational Ocean Forecasting Systems (ETOOFS)
The Expert Team on Operational Ocean Forecasting Systems (ETOOFS) is a component of the Global Ocean Observing System (GOOS), led by the Intergovernmental Oceanographic Commission (IOC-UNESCO) and co-sponsored by the World Meteorological Organisation (WMO), the United Nations Environmental Programme (UNEP), and the International Science Council (ISC). Mercator Ocean International supports GOOS in the implementation of ETOOFS, and Pierre Bahurel, CEO of Mercator Ocean International, is the ETOOFS Chair.
The ETOOFS mission is to support and offer guidance to develop efficient, reliable and interoperable ocean monitoring and forecasting systems – essential prerequisites for tackling climatic, environmental and societal challenges. Through the forthcoming publication of a technical guide, its summary booklet, or the holding of training and workshops, ETOOFS experts are sharing their experience to promote and facilitate the support and development of operational and forecasting systems and their adoption in the wider community.
Discover below the ETOOFS summary booklet: