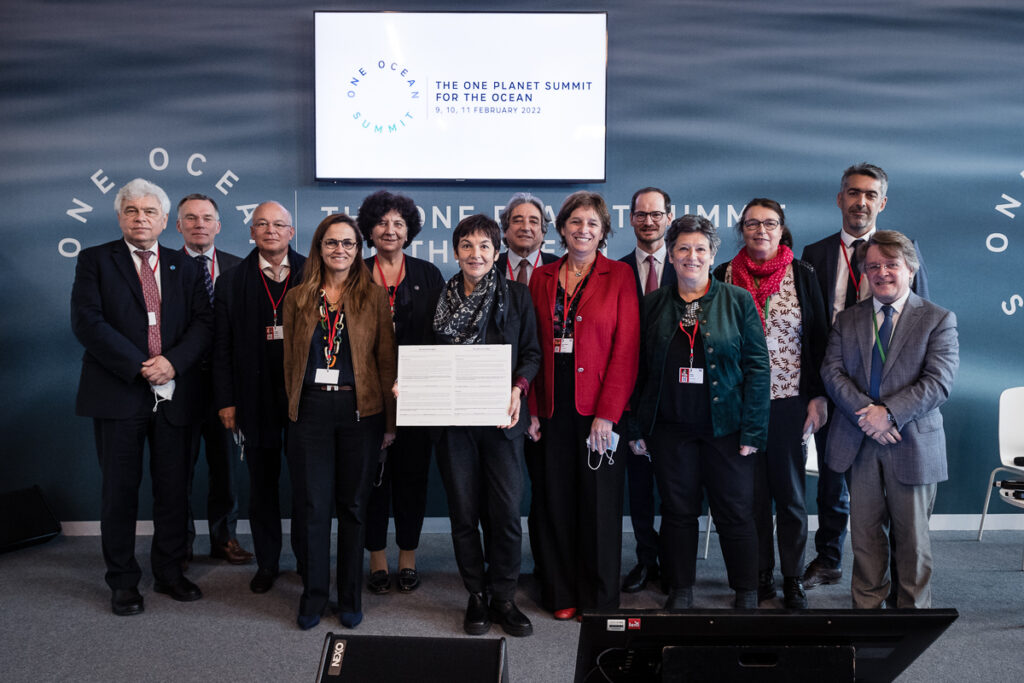 President Emmanuel Macron and French Minister of the Sea Annick Girardin chose the One Ocean Summit, during the French Presidency of the EU, for France to sign the "Brest Declaration" alongside five other European states. Within this Declaration, Spain, Italy, Norway, Portugal, the United Kingdom and France commit to transform Mercator Ocean International into an "international institution that will build the world's first digital ocean.
Mercator Ocean International (MOi) Director General Pierre Bahurel explains in his video announcement below, the strategic importance of operational oceanography in the digital age for Europe and for the international community.
"The French President Emmanuel Macron and Minister of the Sea Annick Girardin, are committed to the virtuous dynamic with governments at the European level and beyond to structure this [oceanographic] capacity, to consolidate it, so that we can build together the digital ocean of tomorrow–to be able to act concretely in the face of environmental challenges such as global warming, the collapse of biodiversity and also to support a virtuous economy, blue economy, and to make each citizen a citizen of the ocean" – Pierre Bahurel, Mercator Ocean International Director General.
Mercator Ocean International at the One Ocean Summit
At the One Ocean Summit organised by France in Brest, from the 9th to 11th of February, six European States (France, Italy, Norway, Portugal, Spain, and the UK) showed commitment to developing European oceanographic excellence by transforming Mercator Ocean into an intergovernmental body. This was solidified in the "Declaration of Brest" and the transformation was announced at the event "Commitment to a world digital ocean and the transformation of Mercator Ocean into an international organisation" on 10th of February .
This event was the occasion for many esteemed ocean policymakers and experts, MOi shareholders and stakeholders to add their support for this transition. Minister Annick Girardin announcement was followed with other honoured speakers supporting the transformation of Mercator Ocean International, including Mr Virginijus Sinkevicius, European Commissioner for Environment, Oceans and Fisheries, and Mr Vladimir Ryabinin, Executive Secretary of the Intergovernmental Oceanographic Commission/UNESCO.
The Declaration of Brest has been signed by the following European States representatives who made their pledge for the declaration during the event:
Ms Raquel Sánchez Jiménez, minister of Transport, Mobility and Urban Agenda of Spain
Ms Maria Cristina Messa, Minister of University and Research of Italy
Henrik Harboe Henrik, Special Envoy Ocean, Norwegian Ministry of Foreign Affairs of Norway
Lord Zac Goldsmith, ministre du Pacifique et de l'Environnement au ministère britannique des Affaires étrangères et du Commonwealth
Mr Ricardo Serrão Santos, Minister of the Sea of Portugal
And Ms Annick Girardin, minister of the Sea of France who has launched the initiative.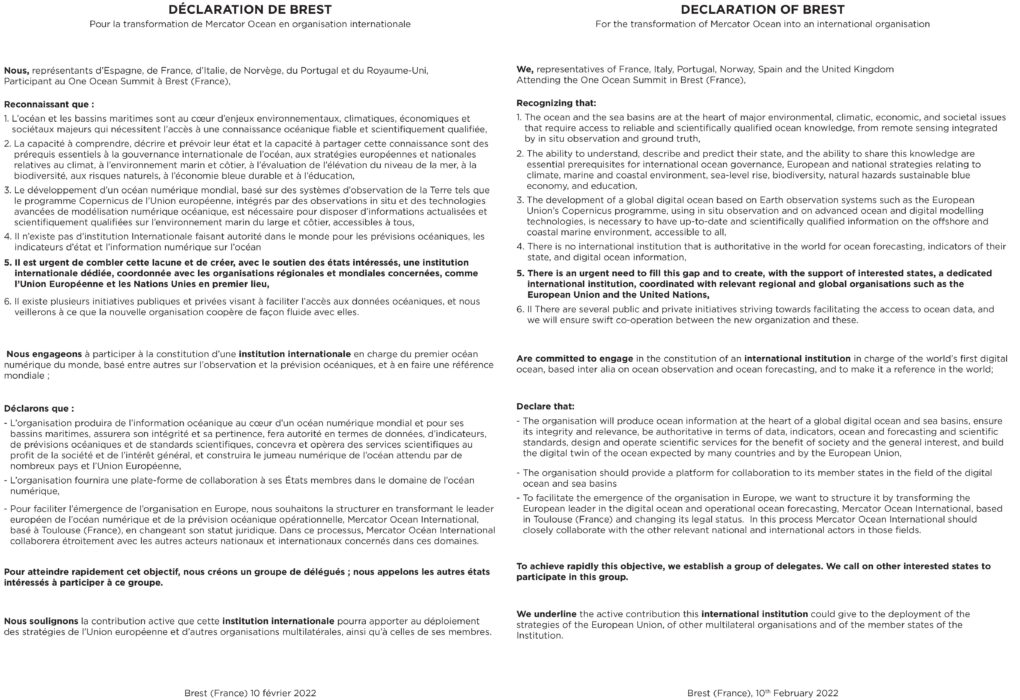 A panel discussion was then animated by Pierre Bahurel and Patrick Vincent (Deputy General Manager, Ifremer) with Mercator Ocean Members of the Board, focusing on Mercator Ocean key-drivers and service delivery. The speakers:
Dr Nadia Pinardi, Professor of Oceanography, University of Bologna, Italy
Dr Johnny A. Johannessen, Deputy Director Ocean and Sea Ice Remote Sensing, NERSC, Norway
Dr Enrique Alvarez Fanjul, Head of Physical Environment Department, ·Puertos del Estado, Spain
Dr Matthieu Chevallier, Head of Marine Forecasting and Oceanography, MétéoFrance, France
Dr Andy Saulter, Head Ocean Forecasting Research and Development, UK Met Office
Mr.Patrick Vincent, Deputy General Manager IFREMER
Mercator Ocean International, a global leader of ocean prediction and digital ocean
Based in Toulouse, France, MOi is a global leader in digital oceanography. It was selected by the European Commission to implement the Copernicus Marine Service for the flagship EU Copernicus Earth Observation programme from 2014 to 2021 and the European Commission has renewed its confidence to MOi for the Multiannual Financial Framework 2021-2028. The service currently delivers information and expertise to more than 450 000 users worldwide. To meet the huge requirements in terms of ocean prediction and ocean knowledge iof coastal European countries, of the European Union, its green and digital pacts and its Mission "Restore Our Ocean and Sea Waters by 2020", but also of the Sustainable Development Goals, and the Decade for Ocean Science of the United Nations, Mercator Ocean International legal status has to evolve while involving as many European countries as possible. Thanks to the transformation into an intergovernmental body, MOi will continue to play a strong role in supporting Europe and its international ocean governance initiatives.
MOi has been providing open-access digital ocean data and services for more than twenty years. It provides an operational oceanographic service with data derived from satellite and in situ observations as well as numerical forecasting models, describing the ocean from the surface to floor. This scientific expertise and technology is based on three pillars: 1. European Earth (and ocean) observation infrastructures (such as the EU's Copernicus programme and the European EMODnet network); 2. the ability to model the ocean, predict its state in the past and future with powerful algorithms developed by MOi; 3. increasingly sophisticated digital technologies, which benefit from Artificial Intelligence and cloud supercomputing.
More about the OOS and the involvement of MOi: