On 27 September, Mercator Ocean International (MOi) held an open community meeting to discuss MOi's candidature to host the first Collaborative Centre for Ocean Prediction in support of the UN Decade of Ocean Science for Sustainable Development (Ocean Decade). Before formally submitting an application to the Intergovernmental Oceanographic Commission of UNESCO (IOC-UNESCO), this meeting served to open a community dialogue with experts and representatives from relevant ocean prediction programmes and centres to determine the interest, scope, and potential engagement among partners and financial sponsors. Over 60 participants attended the meeting from 18 countries representing 28 programmes, projects, and organisations working on various aspects of ocean prediction, including the UN Decade Coordination and intergovernmental organisations IOC-UNESCO, UNEP, and the OECD.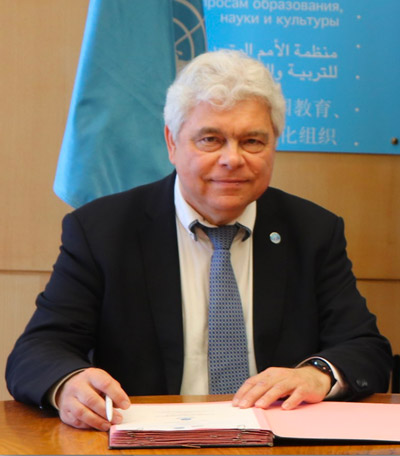 Vladimir Ryabinin, Executive Secretary, IOC-UNESCO

A key element in sustainable management of the ocean is strong and authoritative ocean prediction, including a digital representation of the ocean. These provide objective means for managing the ocean, increasing the transparency of decisions and our ability to use the ocean in more sustainable ways. This is one of the most important initiatives that we can have in the Decade, which will even spill over the timeframe of the Decade. A Decade Collaborative Centre for Ocean Prediction would serve as an incubator and co-design mechanism for ocean and coastal data processing, forecasting and modelling, culminating in a digital twin of the ocean, and taking ocean science beyond traditional institutional stakeholders
Feedback from the meeting
Meeting participants expressed strong interest in the proposed DCC framework and technical coordination structure that would allow the ocean prediction community to harmonise and mutualise common activities, and address issues of interoperability required to 'deliver as one' across a global network. Participants stressed that the scope of this DCC focused on ocean prediction should work with other partners across the ocean observing value chain, from observations and data / information management to downstream users, and facilitate dialogue and collaborations between these system pillars. Participants further emphasised the need for this DCC to provide links between ocean observations and their benefits to ocean modelling, and to promote ocean forecasting products and services to a broad range of non-traditional stakeholders throughout the Blue economy.
MOi will be developing the proposal for the DCC for ocean prediction over the coming months and invites the ocean prediction community to join us in developing a collaborative framework that can serve global ocean prediction activities of the Ocean Decade and beyond.
Pierre Bahurel, Director General of Mercator Ocean International
A DCC dedicated to ocean prediction would not only have a coordinating role but will work to deliver. We want to foster an ocean science-to-service approach to develop powerful ocean prediction capacities around the world for a sustainable ocean
Rationale to establish a DCC for Ocean Prediction
In May 2021, the Executive Secretary of the IOC-UNESCO encouraged MOi to explore ways and means of establishing a DCC for ocean prediction with a view to supporting the goals of the Ocean Decade in these areas as well as reinforcing global capacity in ocean forecasting and digital integration. This DCC would provide the community framework required to translate innovations in ocean prediction into operational ocean services for stakeholders in research and the blue economy, and to support decision-making for sustainable development, climate impact mitigation and adaptation, and biodiversity conservation. This Collaborative Centre would also provide the basis for the global community to prototype the development of a Global Ocean Modelling and Forecasting System as a legacy of the Ocean Decade.
Since its inception in 1995, MOi has been part of the international ocean prediction community. For the last 25 years, MOi has been growing and lending its ocean-science based services across global ocean observing and forecasting systems, and to downstream user applications and services.
MOi is entrusted by the European Commission (EC) to implement the Copernicus Marine Service (covering ocean observations and models, knowledge, policies and user applications); Copernicus WEkEO Data Information and Access Service (digital cloud computing and user applications); and to support the Commission in the G7 Future of Seas and Oceans Initiative (ocean governance and observations); and GEO's Blue Planet Initiative (ocean governance and user applications). Consequently, MOi works across the entire ocean science value chain, engaging with a large ocean prediction community in Europe, and working with and for various EC Directorates, including the Service for Foreign Policy Instruments on ocean governance.
Given MOi's international natural playing field and its long-standing history of operational experience in Europe, MOi is well prepared to lead the DCC for ocean prediction.