Thomas Lesage, who just turned 15 on September 25th, continues his sailing trip around the world, during which his goal is to promote the protection of ocean. Travelling with 60 other students, his on-board schedule includes classes, the watch system and everyday chores (cooking, cleaning, etc.).
3rd awareness-raising session:
Thomas recently held his 3rd awareness-raising session, which took place in Ferdinand de Lesseps French School of Barcelona. The first two sessions were held at the British School of Amsterdam and at the Oporto British School, in Porto. Young students are generally deeply interested by the topic. Thomas' ambition is to help turn them into conscientious citizens of the world. At the end of each session he invites students to join his association "Children for the Oceans". By doing that, they commit to taking up eco-citizen actions in their everyday life. This includes recycling their trash, limiting plastic packaging, and avoiding single-use plastic objects such as straws and plastic glasses.
After visiting school after school, Thomas becomes more and more aware of the
scale of the challenges facing our planet. However, Thomas can already count on the support of the students from the classes he visits and also on the support of the boat school students who want to join his project and his association.
4th awareness session:
The Gulden Leeuw (their boat) left Valencia and is headed to Madeira where it will stop on October 23rd for the 4th awareness session.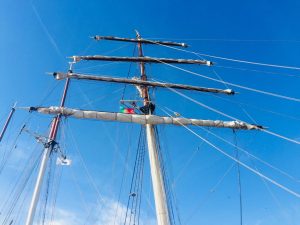 Meanwhile, with the support of CNES and CLS, Thomas dropped an Argos Seabeacon buoy between Palma de Mallorca and Barcelona. This will allow scientists and other interested parties to follow ocean currents in the Mediterranean Sea. It will also help students to visualize that the ocean is finite and that each person can have an impact the ocean.
Thomas' next goal is to develop his association internationally in order to make new connections and find ocean new ambassadors, while building a community of young people through"Children for the Oceans".