1/ GENERAL INFORMATION
Mercator Ocean products are available on the server of MERCATOR OCEAN and updated daily or weekly. The products supplied are those obtained exclusively from MERCATOR OCEAN systems.
No other conditions can prevail upon the following terms and conditions of use.
2/ SUBJECT
MERCATOR OCEAN grants to the User, on a non-exclusive and temporary basis, a non-transferable right to use Mercator Ocean products.
The right of use includes the right to reproduce, modify, integrate and incorporate Mercator Ocean products for the User's own internal use.
3/ USER'S OBLIGATIONS
The User acknowledges that the products remain the exclusive property of MERCATOR OCEAN.
The User undertakes not to reproduce or transfer to any third party all or part of the products provided by MERCATOR OCEAN. The User undertakes to mention MERCATOR OCEAN in the event of the use of Mercator Ocean products in the context of communication, publications or any other dissemination of information related to the use of the products, e.g. by using the warning "Generated with MERCATOR OCEAN products" or by inserting the downloadable logo below.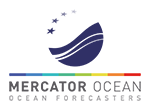 4/ PROPERTY
The User recognises that Mercator Ocean products are protected under French intellectual property law. The User's personnel is not authorised to exploit the right of use for their own private purposes.
The User undertakes to respect the provisions of French intellectual property law and the rules laid down by any international conventions to which France is a signatory.
5/ LIABILITY
MERCATOR OCEAN cannot be held responsible for the consequences, whether direct or indirect, of the interpretation and/or the use by the User of the information provided. As a result, the User undertakes not to pursue MERCATOR OCEAN under law for any direct or indirect damages related to the use or interpretation of its products.
MERCATOR OCEAN cannot be held responsible for any interruption in supply to the User in the event of an absence or delay of the entry data made available to MERCATOR OCEAN by national or international services and necessary for simulations by the Mercator Ocean system.
MERCATOR OCEAN cannot be held responsible for the absence of data due to a legal obligation imposed on it to protect certain information that would be against national defense interests to divulge.
6/ DURATION
The present provision will come into force as soon as the User uses the products directly accessible on MERCATOR OCEAN website.